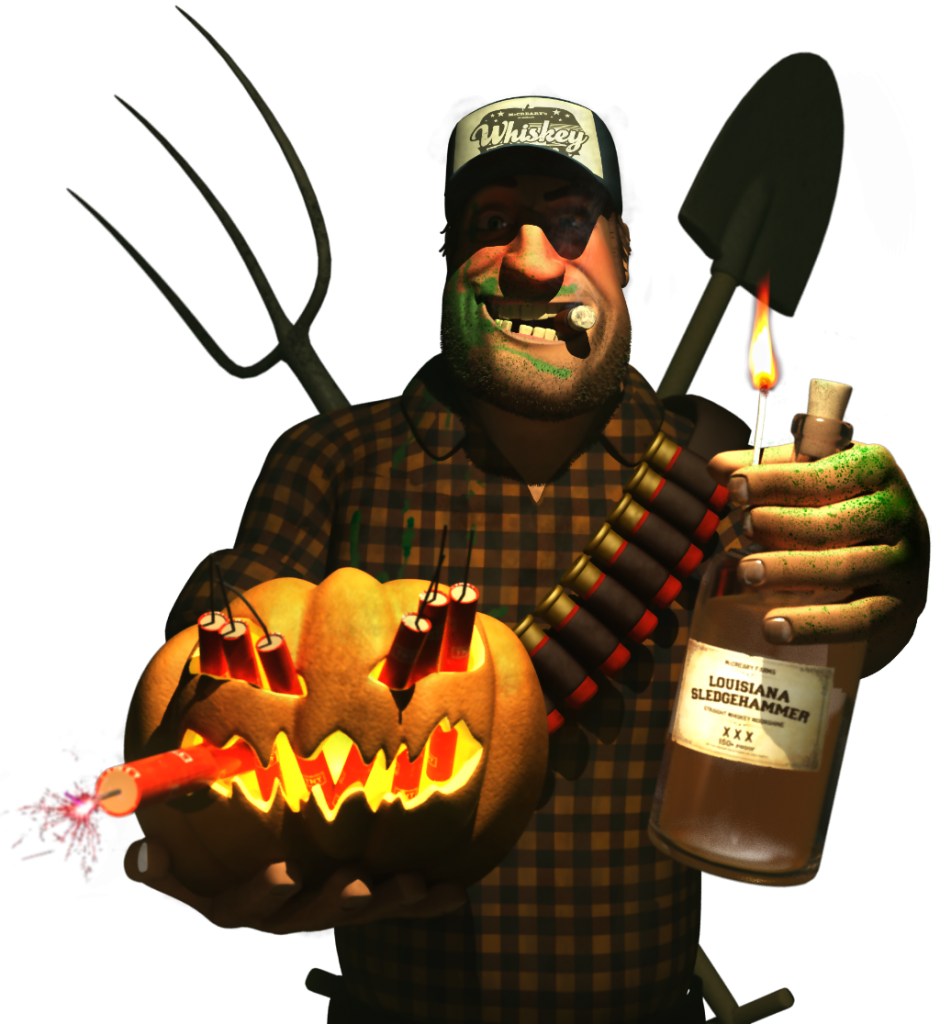 On October 28th, we are dropping a big Halloween update—and in the spirit of all things ghoulish we are doing a massive giveaway AND a badass competition!  And we have some amazing prizes!!

The updates includes a new Halloween level (also in the Free Demo!).  If you can beat it, you could win some nifty prizes but we are also giving away some incredible stuff!
6 x Nightmarish Games Bundle (4 games, up to $45 in value). 
2 x A Hellish Halloween Games Bundle (8 Games = $75 in value!)
3 x Whiskey & Zombies T-Shirts (check our store for prints)
25 x full copies of Whiskey & Zombies
Schedule
Thursday October 28th
The new update to the game will drop on Steam at 9am PST / 12pm EST / 6pm CET. Get it quick and get to work on the new level!
Sunday October 31st (Halloween!)
31 winners are picked from our combined Twitter/Instagram followers
Follow Whiskey & Zombies on Instagram and/or Twitter
Like one of our posts + tag 1 friend (Insta) / retweet on Twitter
If you follow us on both Instagram and Twitter, you will double your chances — AND if you try to beat the level (even if you don't make it, you'll have 4 times the chance!
Download the Whiskey & Zombies free demo (or full game)
Play the Halloween Level

First 3 players to complete it wins a killer Funko POP!
The 3 fastest times on the level wins a killer Funk POP!
4th to the 10th fastest times wins game bundles (4 games)(times on the leaderboard as of 12am PST, Oct 31st).

Enter your email or insta/twitter handle as your player name!
In the zombie apocalypse, it turns out the only thing strong enough to kill the virus is Louisiana whiskey moonshine… and the survival of the human race now rests on the McCrearys—a family of permadrunk, bootlegging rednecks that don't like each other much.
Whiskey & Zombies is an adventure/stealther/brawler filled with laughs, action, thrills, and a whole lotta button-mashing while frantically shrieking—and it's all taking place in the gritty Deep South.
The rules are simple: Drink, fight, and stay alive! And don't kill the family unless you really have to.
Check out the game here: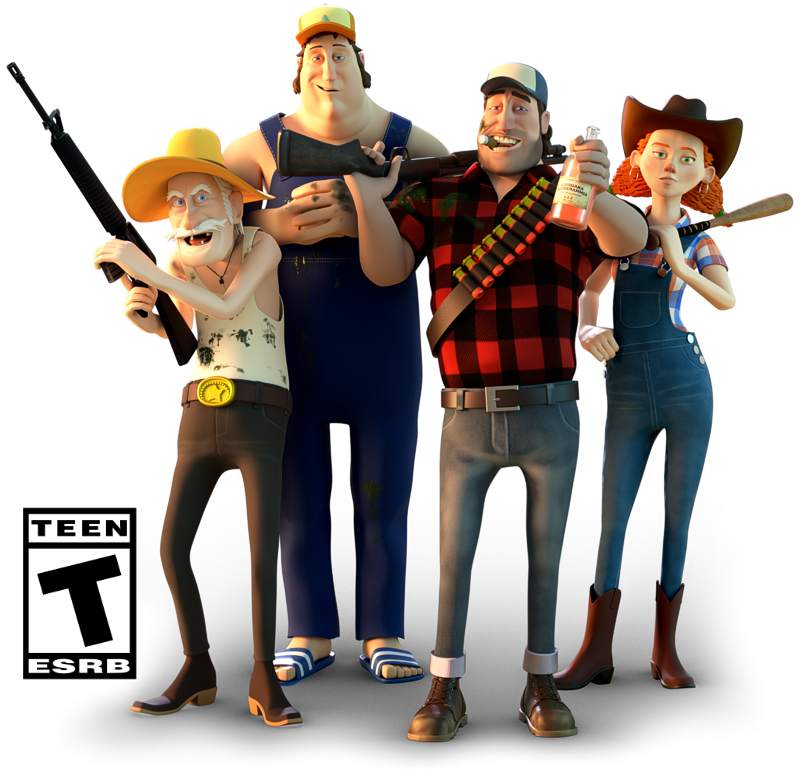 Keep track of the apocalypse with us: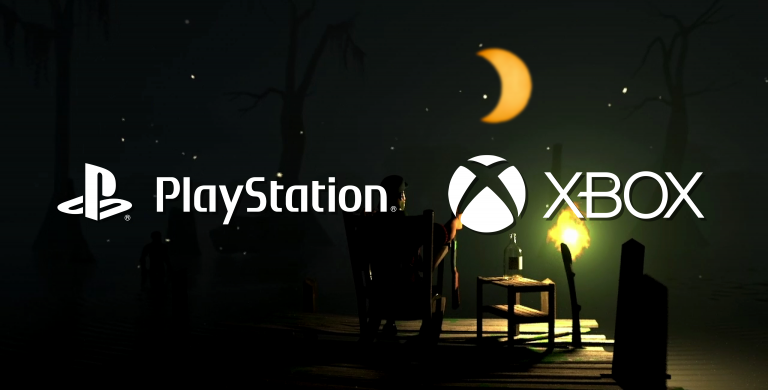 Stay drunk to stay safe in this chaotic co-op stealth brawler coming to PlayStation and Xbox April 7th 2022 – Today, developer Nuttery Entertainment is as happy as a
Read More »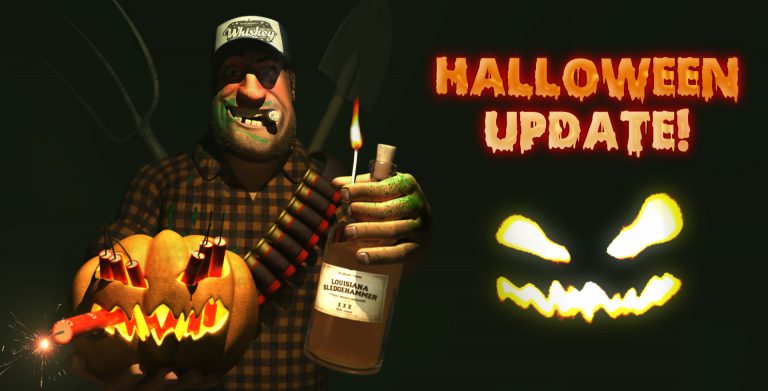 Big ghoulish update with a brand new game mode and a Halloween-inspired level — Maze Runner! (also available in the demo!!) There are also exploding pumpkins, new power-ups, plus a lot
Read More »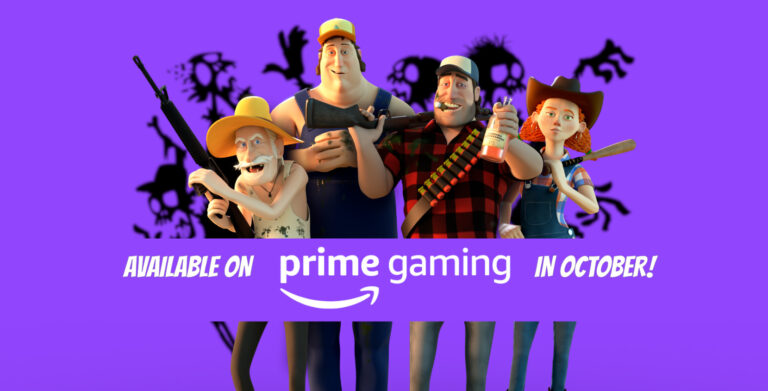 Plug In Digital and The Nuttery Entertainment have finalized a deal with Amazon's Prime Gaming (formerly Twitch Prime) to make the story-driven, comedy-brawler Whiskey & Zombies available to
Read More »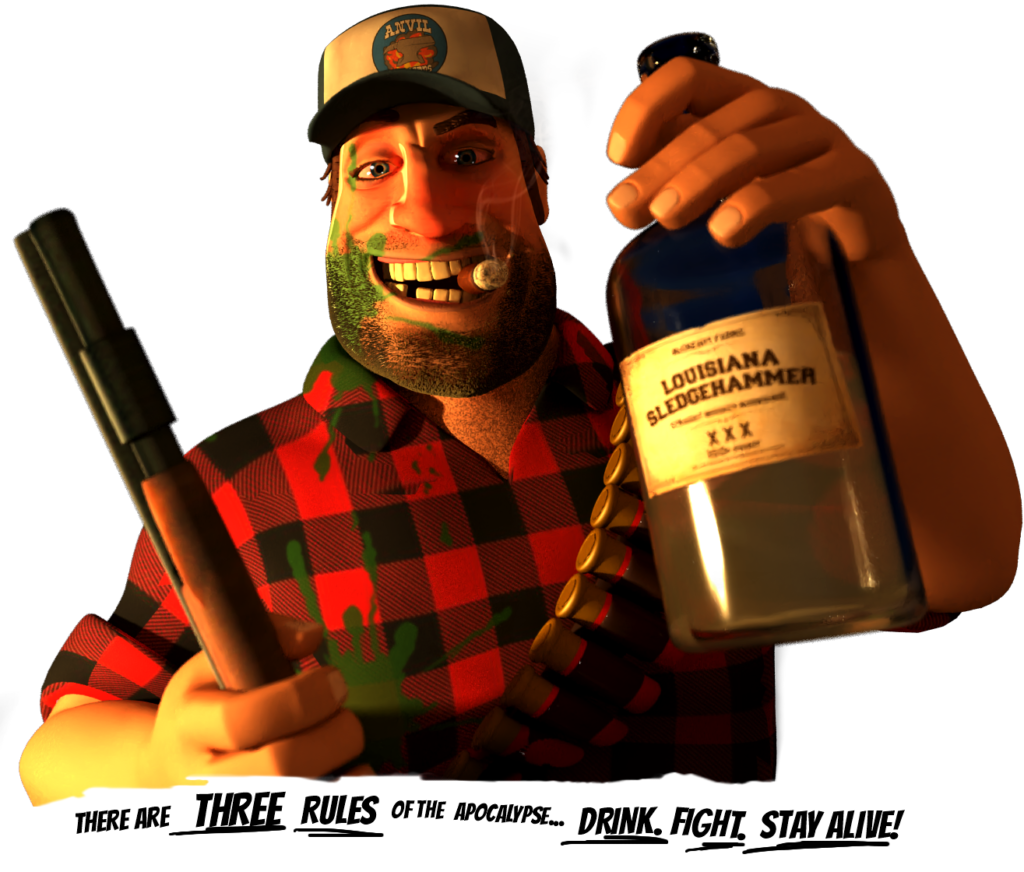 Top-Down Mayhem

: Swig, slug, swing, and shoot your way through the hordes of undead just waiting to take a bite out of your thinking-noodle.

Unique Drunk System

: You gotta stay drunk to stay alive but the "safer" you are, the harder the game gets. Too drunk and you can't shoot for shit and you might even pass out. Not drunk enough and the virus creeps up, impacting your stamina and, of course, might turn you into a zombie.

Different Characters & Abilities

: Play as one of the 4 McCrearys, each with very different and unique traits. Some are slow and powerful while others are light and fast but can't hold their whiskey very well.

Story-Driven

: Discover the McCrearys' Southern roots and their individual motivations as you help them on their way through the ass-end of Louisiana to their home in the Bayou.

Fun but Challenging

: It might be easy to sneak around and rack up a few kills, but the more you progress — the more resistance you will meet.
Platform?
The game is PC only at the moment but we are eyeing a couple of consoles for release. If you want to let us know which one you would like to see it on first drop us a line feedback@whiskeyandzombies.com.
Who Making Whiskey & Zombies?
Well… The studio behind this is The Nuttery, a new studio on a humble mission to make the world a better place with weird and hopefully moderately awesome games. We are small in size but we have giant egos. Somehow we have also managed to spread from our base of operations in Karlstad all the way to Stockholm, and most recently, Los Angeles.
How Do I Get To Play This?
The game is available on Steam. It may be an advantage to play the game with an xbox or dualshock controller. If you have don't have one, fret not, fren – keyboard / mouse will work great. For multiplayer, the last person playing will be using the keyboard so if you have two controllers, player three would use the keyboard (for two players, both controllers work).
What makes Louisiana Moonshine so special?
The McCreary Clan has always been known for three things: Causing a ruckus, playing a mean banjo, and of course, for their home-brewed moonshine whiskey "Louisiana Sledgehammer".
Louisiana Sledgehammer dates back to the late 19th century, where records mention a Charles Dunbarton McCreary who was called in for questioning after a mysterious illness shook Louisiana. 14 people died from consuming "ill-made spirits of the worst kind". The coroner likened these deaths to "these folks havin' been bludgeoned with a sledgehammer". The law never caught up with Charles and there were reports of similar incidents in Florida, Mississippi, and Alabama.
The infamous Louisiana incident – dubbed the Louisiana Sledgehammer Poisoning – was soon forgotten, but the name somehow stuck. And thus, McCreary's Louisiana Sledgehammer was born.
Louisiana Sledgehammer is always distilled using the finest water from whatever creek is located in the vicinity of the illegal still. With each generation of McCreary, the still has been refined to be extremely fast and lightweight, making it portable and perfect for quick getaways. Today, the operations are overseen by Ol' Red McCreary and the still resides somewhere in the woods around New Roads, Louisiana, back where it all started. It still a very popular drink "round those parts" and as Red likes to proclaim: "this ain't no regular shine, this here be proper medicine!"
I Know You Suck at Making Music… So Who Done Did the Score?
Our awesome partner Elias Software and their incredible adaptive audio engine. Check out this video where Elias' founder Kristofer and composer Martin show how they created the score for Whiskey & Zombies.
Nuttery Entertainment
Magnus Jansson (Lead Design/Dev)
Erik Öhrner (Producer/Marketing)
Henrik Vesterberg (Design/Dev)
Elias Software
Martin Barreby (Main Composer)
Kristoffer Eng (Composer)
Additional credits coming soon, but a big thanks to everyone else who pitched in across the entire production! It's been a blast so far, let's keep the drunken zombie slaying mayhem going!
Additional Assets
Emil Cederman
2D Character Art
Emi Ordas
Tom Evans